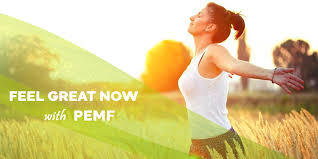 Dear friends,
It's that time of year again…the kids are back in school, fall is around the corner and everyone is getting back into a healthy routine.
Have you made time for Pulsed Electromagnetic Field (PEMF) Therapy in your life this month? PEMFs deliver beneficial frequencies into your body slowing the aging process and ultimately increasing your state of health.
The benefits of PEMF include:
▪ reduction in pain and inflammation

▪ enhanced cellular response

▪ increased circulation

▪ increased tissue oxygenation

▪ improved sleep quality

▪ detoxification

▪ regeneration of bone and soft tisue

▪ muscle relaxation and more

Contact us today to book your appointment and get back into a routine of of good health with PEMF. tel: 905.235.7330 / info@healthharmonies.com
We look forward to seeing you soon!
Very best in health,
Health Harmonies Newmarket